Navigate from Port de Sóller to...
With Port de Sóller as a base, there are countless places to discover and enjoy a day at sea. Swim in crystal clear waters, visit small coves, access exclusive restaurants, practice water activities ...
Cala Deià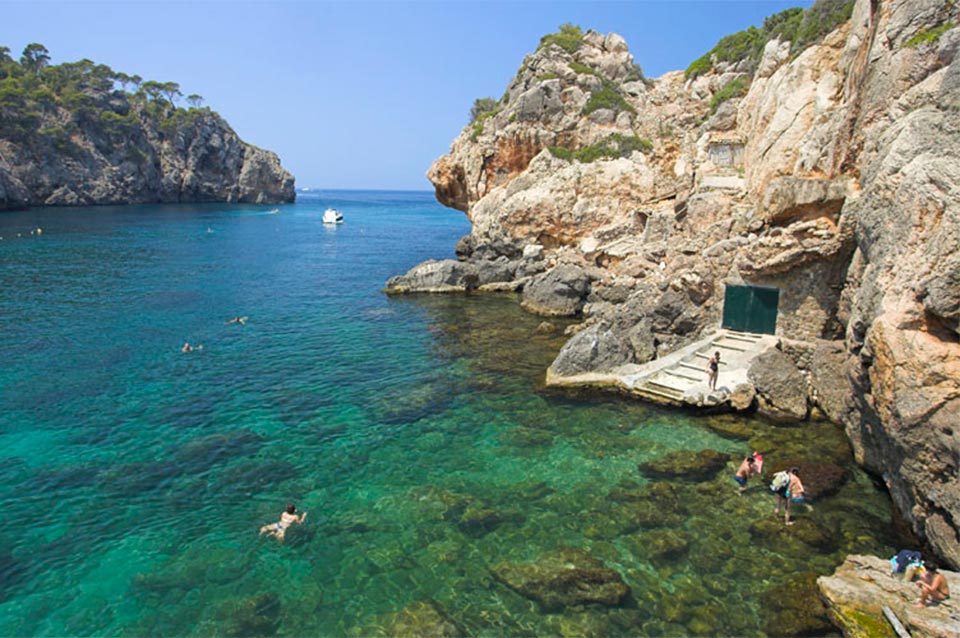 Distance: 3.5 nautical miles from Port de Sóller, southwest direction.
The small and beautiful Cala Deià is located between Punta de Son Beltran and sa Pedrissa, where a defense tower was built against pirate raids. Like other coves of the North Coast of Mallorca, it is very close to the imposing mountains of the Tramuntana.
This beautiful cove, surrounded by medium cliffs, crowned by scrubland and pine forest, ends in a semicircular beach where a stream flows and beautiful terraces rise. Thick sand and gravel make up its paradisiacal slope with a pronounced slope. On the margins there is a small pier, "escars" (small refuges for typical boats of Mallorca) and some restaurants, highly praised for their rice and grilled fish. It is usual in summer to coincide with popular characters of international scope.
In the summer months it is a very popular destination, but by accessing by sea we can enjoy a different perspective than usual, as well as the possibility of enjoying a more intimate and relaxed atmosphere.
Na Foradada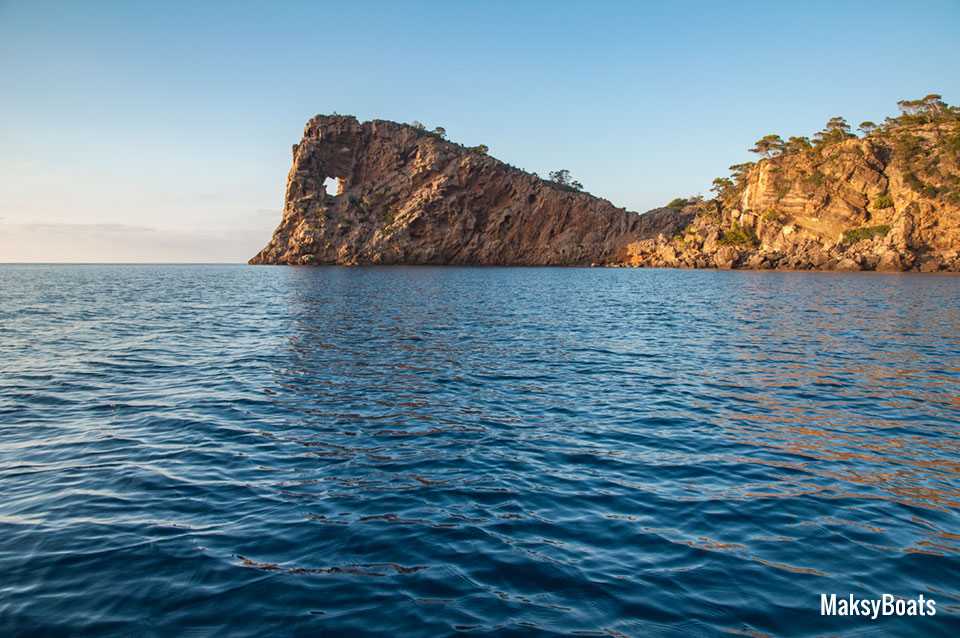 Distance: 4.5 nautical miles from Port de Sóller, southwest direction.
One of the most unique places on the northern Mallorcan coast is undoubtedly Na Foradada, a small L-shaped land peninsula that juts out into the sea. What gives a special stamp to this place is the final promontory, pierced in its interior by a huge hole (in Mallorcan, forat), which gives its name to this place.
Na Foradada is today one of the most famous images of Mallorca. It is inevitable to run into her on the postcards of souvenir shops and on any television report or tourist guide dedicated to the island. However, as with almost everything, it is more impressive to see it live than in photography.
Undoubtedly, one of the best ways to get to know Na Foradada is from the sea. On board a boat we can approach and admire the unique hole, as well as dive in its clean and crystal clear waters. In addition, we can enjoy a delicious meal in the exclusive restaurant by the sea, overlooking Na Foradada. An experience you will never forget.
Cala Tuent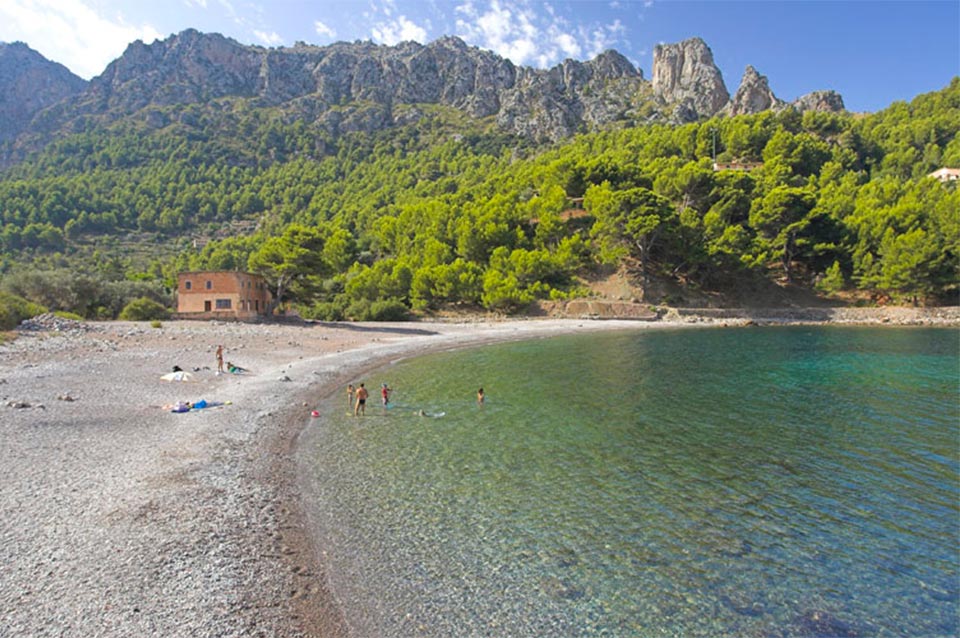 Distance: Cala Tuent is located 5.6 nautical miles from Port de Sóller, in the northeast direction.
Cala Tuent is located between the Punta de sa Corda and Morro des Forat, at the foot of the Puig Major (1,445 meters of altitude), the highest peak of Balearic Islands.
In this beautiful sea entrance we find a semicircular beach between rocks, whose slopes have leafy pine forests. The sand on the first line gives way to boulders and coarse gravel.
In Cala Tuent it ends (or begins) "sa Costera", one of the most beautiful excursions that can be done in Mallorca. MaksyBoats offers transport service for the most adventurous visitors who wish to walk this fantastic route on foot.
Sa Calobra & Torrent de Pareis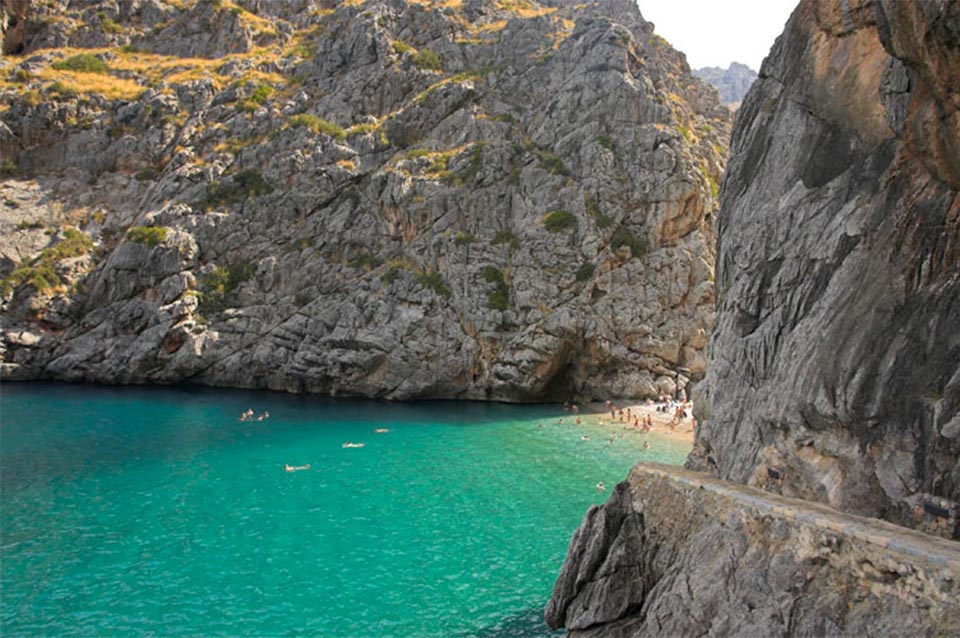 Distance: Sa Calobra is located 7.2 nautical miles from Port de Sóller, northeast direction.
The small port of Sa Calobra is located between Morro de sa Vaca and Morro de ses Fel·les, at the foot of the Puig Major (1,445 meters of altitude), the highest peak of the Balearic Islands.
The claim of this beach of sand, gravel and pebbles, is behind the pedestrian tunnel that borders the cliffs, giving access to the beautiful and paradisiacal mouth of the Torrent de Pareis, source of inspiration for artists and where every summer a concert is held thanks to its excellent acoustics.
Sa Calobra is one of the most visited enclaves in Mallorca, both by tourists and locals. However, the access by sea in small boat, offers the possibility of enjoying this unique enclave without overcrowding.